Recent Projects We've Completed For Our Clients:
WP Plugin for importing Excels
Theo Platica
2018-10-21T17:03:22+00:00
We Build Solutions For Your Everyday Problems
Web Design and Development Company – Ecommerce website development
Some Words From Our Clients
I've found Web Lounge team to be extremely helpful. I had a client's issue to resolve and they went above and beyond throughout the entire process to ensure everything is done the way it's supposed to be done. We have communicated great and I hope to be working together again soon.
From the very start of the contract, they showed real enthusiasm to understand our project and also a determination to complete the work AS per our specifications AND in a tight time-frame. In particular, we were impressed with the level of communication and it was never a problem to request adjustments – often made in real time!
Web Lounge completed the job successfully and professionally. I highly recommend hiring them as WordPress developers! I enjoyed working with them and look forward to our next assignment.
Our Proven Process Produces Results
First is first. We need to get in touch and find out "What do you want to achieve?" and "What is your budget?". Often customers have an idea of what they want, but sometimes they need help from industry or subject matter experts to fill in the gaps.
After the customer's requirements are documented, they should then be reviewed and approved by internal stakeholders and then by the customer to make sure everyone is on the same page.
This is where the code gets written. Usually, development is split into short 'sprints', usually 2 weeks long. At the end of each sprint, a demonstration is given to show what has been produced.
Internal testing is all about ensuring the product works as expected. During each sprint the product is tested by our Quality Assurance team and also by the client who test the product against requirements and acceptance criteria.
Finally, the finished product can be handed over to the customer. The User Acceptance Testing period gives the customer time to review the product for bugs and to voice any concerns.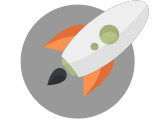 Web Design and Development Company and Ecommerce website development!
We're Here To Help Your Business Blast Off!
Through Creative Ideas, Innovation & Sheer Determination