OUR MISSION IS TO HARNESS OUR CREATIVITY INTO A VIABLE SOLUTION

Web Lounge is a Web Development Company specialized in Custom Projects. We're always concentrating on expanding our clients/collaborators portfolio, so you have the chance to be the next one to experience our quality services.
Our goal is to find the right solution for every budget, whether it's a simple online presence or a complex custom application.
Below are some of the Team Members which will take care of the happy delivery that you're in need of.
We Thrive On Challenging Projects That Produce Bigger Rewards.
The Right Tools. The Right Solution.
Deciding what to use in the development process is an important part on which our team puts a lot of accent through brainstorming sessions before starting the implementations.
Beautiful Images
Images tell a story, share a feeling and reveal information to your viewer.
Images Tell A Story
Rest assure we will incorporate beautiful imagery into your project so it stands out to the world.
Intuitive Options
Our intuitive options allow you to quickly and easily customize your web site.
Interfaces Matter
Options are useless without a clear understanding of what they do. We include intuitive, easy to use options.
Responsive
No matter what screen size or device, your content will look amazing.
Looks Amazing
Your content matters most, and needs to be accessible anywhere, anytime. This happens with our framework.
Meet Your New Best Friends, Our Gurus.
We Are Global And Have Helped Clients Worldwide.
We Thrive Ourselves On Creativity, Intuition & Determination.
Our ambition and excellence will enhance your business with the best innovative technical solutions available on the market.
We Are Creative
Creativity is characterised by the ability to perceive the world in new ways and to generate solutions.
We Have Intuition
Intuition is a process that gives us the ability to know something directly without analytic reasoning.
We Are Determined
This is what makes the difference between us and others. We always cross the finish line!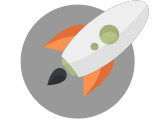 We're Here To Help Your Business Blast Off!
Through Creative Ideas, Innovation & Sheer Determination